Nonsense verse in all its true glory as written by Lewis Carroll and Edward Lear and presented in fine style by Stanley Holloway - rapidly becoming a favorite of Voice On Record - Beatrice Lillie and Cyril Ritchard. But we start with some BBC comedy including the Two Ronnies, Derek and Clive, and various others.
Broadcast 23 February 2010
The last Nonsense programme with some classic Lear and Carroll plus odd bits of BBC stuff such as the Two Ronnies, Derek and Clive etc.
More Fun At One
BBC Records, 1980
OK, so this has some truly awful stuff on it such as Jasper Carrott's
The Nutter On The Bus
sketch which comes across as a really offensive attack on the victims of the lack of mental health care in Britain in the 1970s and 80s. However, there are good things too.
Nonsense Verse of Carroll and Lear
read by Beatrice Lillie, Cyril Ritchard and Stanley Holloway.
Caedmon, 1957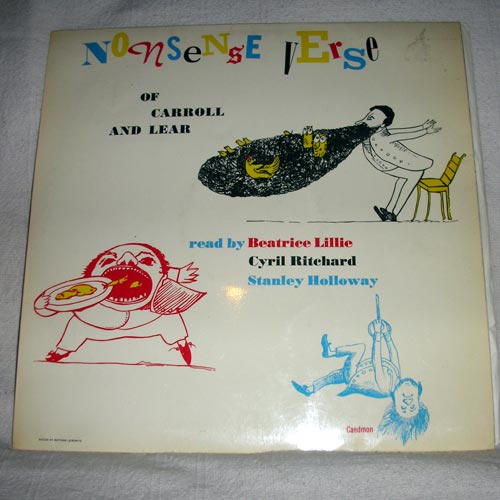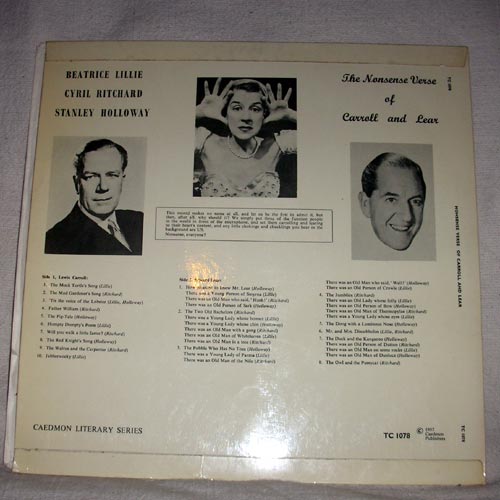 The Jumblies, The Pobble Who Has No Toes, and the Dong With The Luminous Nose are all characters that feature in
The Quangle Wangle's Hat
which is a remarkable book, beautifully illustrated by Helen Oxenbury.